Football Yellow Card Betting Strategy: Key Guidelines and Fundamentals
We examine the specific football wagering strategy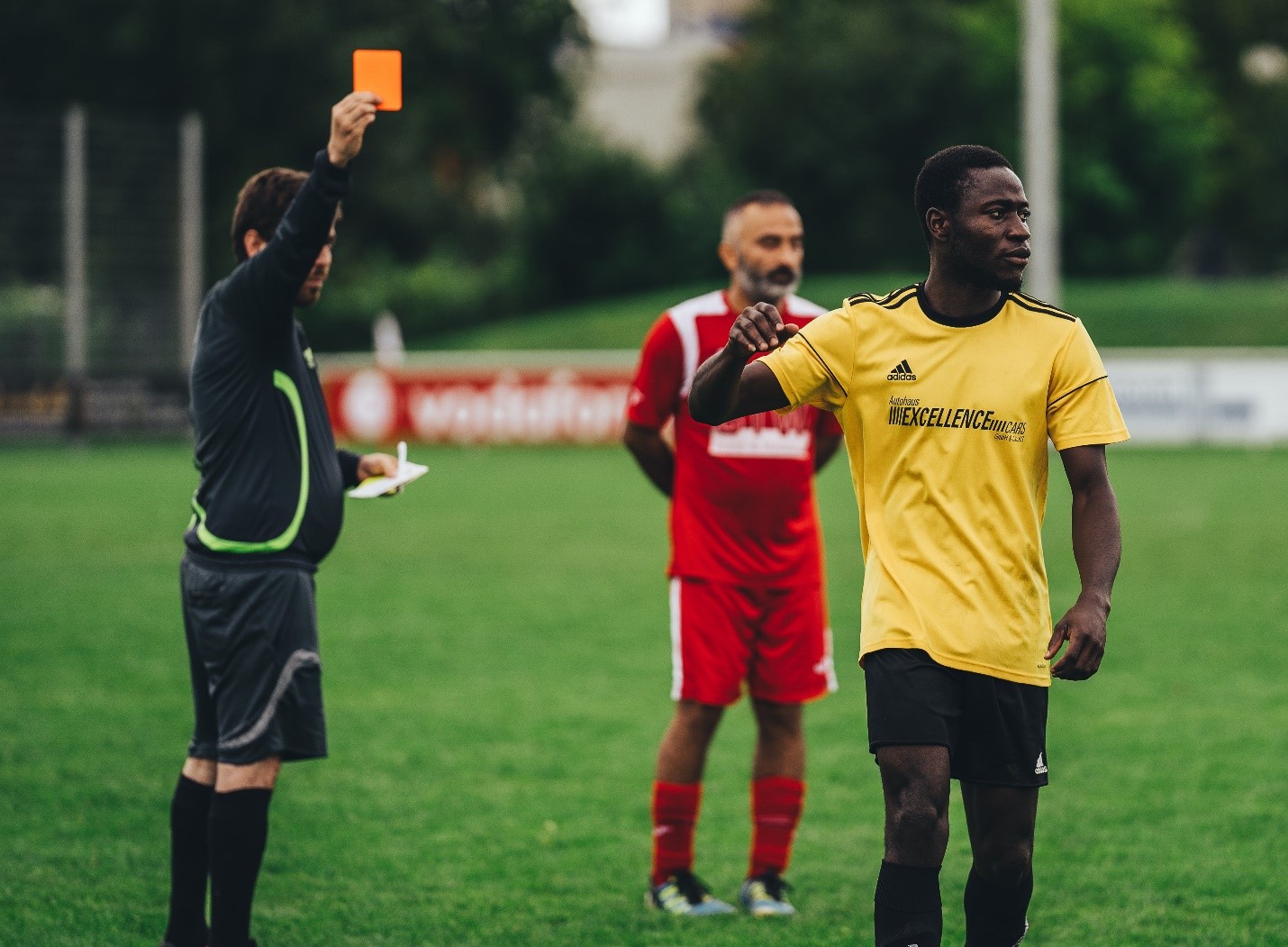 We examine the specific football wagering strategy that, when used correctly, can be profitable in the long run. In the extremely well-liked build-a-bet or request bet accumulators, wagering on yellow cards is frequently an option.
By adhering to the fundamental guidelines, yellow card betting can be predicted with high probability. Playing on the referee's preliminary formal warning to a player can be a profitable long-term strategy. To improve your chances of making money in this market, familiarize yourself with the yellow card less-known betting guidelines.
Which Kinds of Yellow Card Bets Are Available from Bookmakers?
A variety of wagers are available from the best UK betting sites in 2023 at Bookmaker-Expert.com and others on yellow cards:

There will be a draw or more yellow cards for one of the teams;
A total of yellow cards;
Individual totals;
A particular player will be given a yellow card Yes/No;
Options for time-determined yellow card bets include the regular time, time intervals (e.g., from the first to the 10th minute), and by halftimes;
The first or last yellow card of the match: which team will get it first, at what time interval, etc.
Combined bets are often offered by sportsbooks: will the first goal be scored before the first yellow card Yes/No, for instance.
Specific Guidelines for Yellow Card Wagering at Bookmakers
Examine the unique regulations for this market before deciding to wager on yellow cards at a bookmaker:

Red cards are counted when the second yellow card is received, not counted as another yellow card;
Yellow cards received by coaches as well as players who are substituted don't count as yellow cards;
The statistics for the second half counts when yellow cards were shown during the halftime break;
Yellow cards shown following the last whistle aren't counted.
The Approach for Placing Football Wagers on Yellow Cards
While there may be variations to the yellow card betting strategy, if you're playing online, we advise going with the total yellow cards in the match market. When you do so, remember the following guidelines.
Give markets with higher totals preference when placing bets. Choose the teams that typically receive one yellow card or fewer based on statistics. However, a conflict scenario could emerge during any game, with many yellow cards in place. Place a wager on more for the total number of yellow cards in a match if the clubs play rough every time and receive three to five cards.
Using statistics, compile a list of 15–20 "favorite" clubs. These are those who receive at least four yellow cards on average during a game.
Find the "arch rivals" matches in the line. Such pairings can be found in practically every championship, such as Roma vs. Lazio in Italy, Fenerbahçe vs. Galatasaray in Turkey, Olympiacos vs. Panathinaikos in Greece, and so forth. It's typically expected that these rivals will combine for at least 6-7 yellow cards in their encounters.
In order to place a successful live wager on yellow cards, watch the matches you picked. If the odds are, say, 1.50 in a pre-match line for a total of 4.5 yellow cards, it will increase to 1.80–2.00 in the 30th minute if there are no cards prior to that.
If you consider the enumerated guidelines seriously, you can get 15–25 appropriate games each week. This will enable wagering on yellow cards based on strategy and analyzing the outcomes over a period of time, such as a month, entire season, or, more specifically, by halftimes.
What Elements to Take into Account When Evaluating and Selecting Matches
The following factors should be considered when determining the likelihood of a wager on the total number of yellows.
An essential component of evaluating such a wager is the refereeing style. Referees' responses to flagrant play vary. Select games officiated by referees who hand at least six yellows in each game.
The match-favorite team's offensive tactics during the game.
When attacking, if quick and technical football is preferred by a team set as the bookmaker's favorite, its opponents will frequently flagrantly violate the rules and be given yellow cards often.
Stats on the cards that both teams' defensive midfielders consistently receive.
Most frequently, players in this position receive yellow cards, even more frequently than defenders, who are compelled to play with greater accuracy.
Pay attention to the second half ongoings.
Place a wager on total yellow cards for odds of roughly 2.00 if the overwhelming favorite isn't victorious by the match's 60-minute mark. When faced with a formidable opponent, the outsider will frequently fall apart. Time delays will start on the part of the weak team; thus, cards are also given to its players. Consider this when evaluating total YC live.
Player-specific statistics.
Every team has some notable "thugs" on its roster. Their starting lineup appearance enhances the likelihood of wagering on the total yellow cards – more than the set limit.
Rules for Your Bank Management
These days, wagers on the match's quantitative indicators, such as yellow cards, are accepted by all bookmakers. In addition, bookmakers don't impose strict limits and instead offer an average margin for this well-liked market. As a result, you can place sizable wagers. The following bank management principles must be followed when using the online betting strategy for football yellow cards:

Select a betting strategy that's restricted, such as Kelly's principle (putting a wager that's equal to the win probability minus the loss probability), flat (for a predetermined amount of time, ranging from one month to a year, stake the same amount on every wager; the sum is determined using the player's bankroll as a percentage), or another;
Spend no more than 1% to 3% of the entire bankroll on a single match: A high-risk wager at total yellow cards of 5% per bet;
Choose odds that are between 1.80 and 2.20;
Once a week, figure out your ROI (return on investment): If the loss exceeds 15% percent, you should reevaluate the criteria you use to select your betting options;
If the strategy you've chosen has been tested and has produced good profits in six to seven months, then ignore the short-term losses.
Final Thoughts
In football, the yellow card strategy necessitates discipline in bank management as well as match selection.
A system of betting on total yellow cards can be successful if you're prepared to adhere to strict guidelines and unambiguous principles from a distance.